UK Motorsport Graduate Engineer
By

Pirelli

Internship

London

(

United Kingdom

)

Engineering / Production Management
---
{[ sinceDateShort() ]}
16 views
Job description
Job Scope

The successful graduate will become an integral member of the Pirelli Motorsport team, with an understanding of how motorsport operates; you will be involved in most aspects of tyre engineering, providing professional trackside support service in respect to a variety of motorsport events. You will work in both the base facility (UK) and at race events in the UK and abroad, with potential visits to Milan (HQ) as and when required.

You will be passionate about motorsport and have excellent practical skills, be a good problem solver, possess the ability to analyse and interpret data as well as assess physical cases.

You will be available to travel extensively.

Role responsibilities

· To analyse and interpret race data on behalf of Pirelli and your allocated motorsport team(s) with the aim of promoting continuous improvement in the brand
· To produce clear, factual reports in a timely manner
· To be acutely aware of the need for accuracy and resilience in a fast paced and highly pressurised environment
· To understand how the role of Engineer compliments and works with other motorsport roles e.g. Fitters, Logistics, R&D etc. and to operate at all times in a fully co-operative and cohesive manner
· To work as an effective team member in relation to the Engineering team and as required with other Pirelli motorsport teams
· To take initiative and solve problems through statistical analysis and regular liaison and discussion with colleagues, line managers and race team representatives
· To understand the impact and implications of a drop in standards
· To identify and undertake training and development activities as required to enable you to fulfill the role, keep your knowledge and skills up to date and to fulfill your own potential

Required Qualifications and Aptitudes

Education

· Good level of general education, to include English and Maths
· Graduate with relevant degree e.g. Motorsport Engineering, Mechanical Engineering

Experience

· Previous experience within a motorsport role is essential
·

Skills

· Strong IT skills
· High level of attention to detail
· Flexible approach to work and able to work under pressure
· Ability to prioritise, co-ordinate and organise workload, ensuring deadlines are achieved
· Ability to work alone and as part of a team
· Excellent communication skills
· Able to build and maintain strong working relationships
Get a mail digest of vacancies that match your profile!
Thousand of vacancies are available for you on Wizbii :)
About

Pirelli
Automotive
30000 Employees
Fondée en 1872, le groupe Pirelli est l'un des principaux fabricants de pneumatiques au monde. Spécialisée sur le segment haut de gamme, la firme italienne se distingue par la production de pneumatiques Premium bénéficiant d'une technologie de pointe.
Partenaire des plus grands constructeurs automobiles Prestige et Premium, Pirelli propose plus de 1.650 pneumatiques homologués. Conçus sur-mesure pour chaque véhicule, ils garantissent un niveau de performance et de sécurité maximal.
Possédant 19 usines réparties dans 13 pays, le Groupe Pirelli produit des pneumatiques pour les véhicules automobiles, motos et vélos et les commercialise dans plus de 160 pays, à la fois sur les marchés matures et émergents.
Dans le cadre de sa quête d'excellence, Pirelli adopte un positionnement haut de gamme et développe des produits de haute performance. C'est aussi une image de marque exclusive dont le meilleur exemple reste le célèbre Calendrier.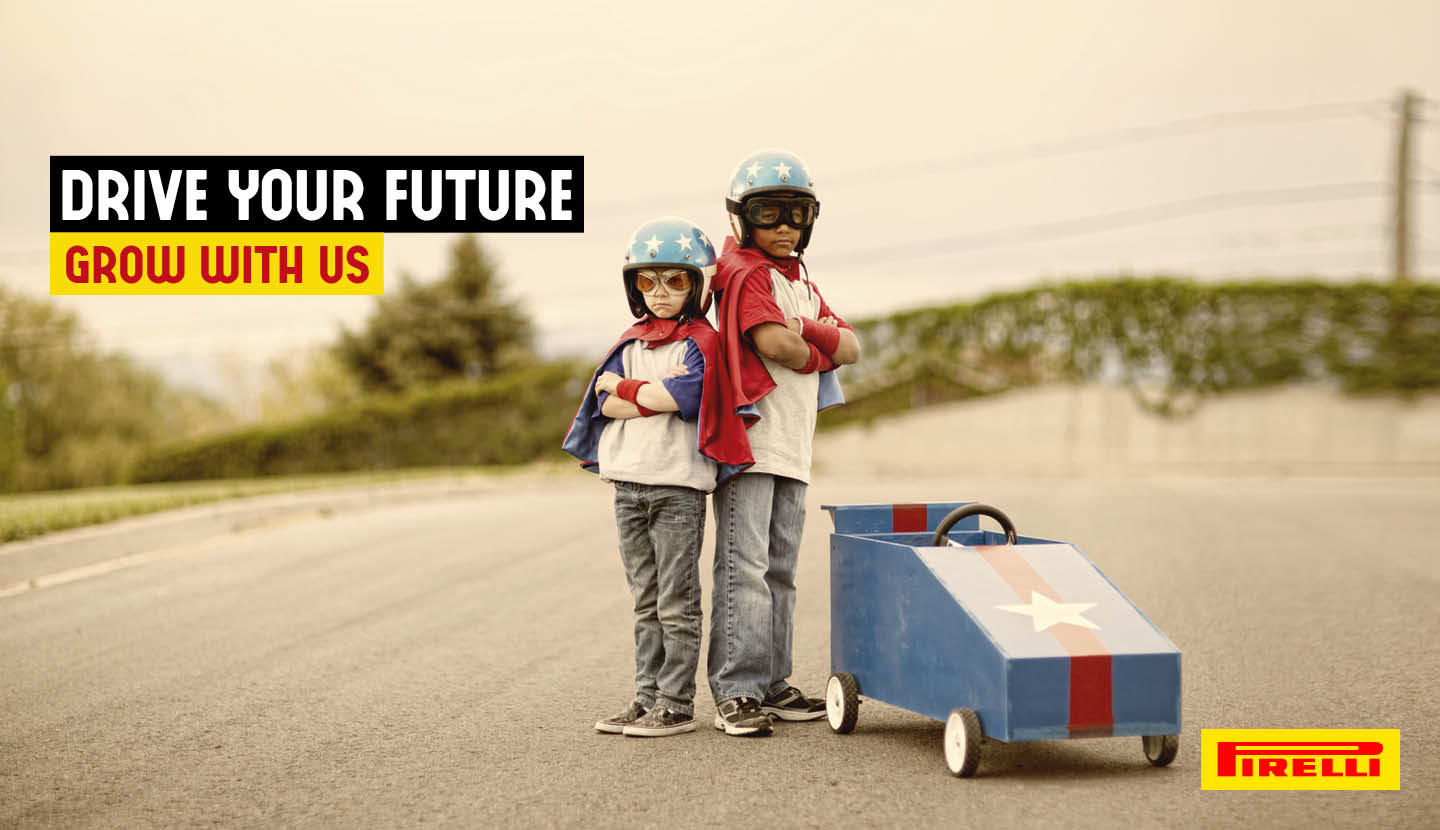 No vacancies open at Pirelli
Find your next job on Wizbii,
the leading professional platform for youth's employment
Job vacancies